Lamb, bam, thank you ma'am!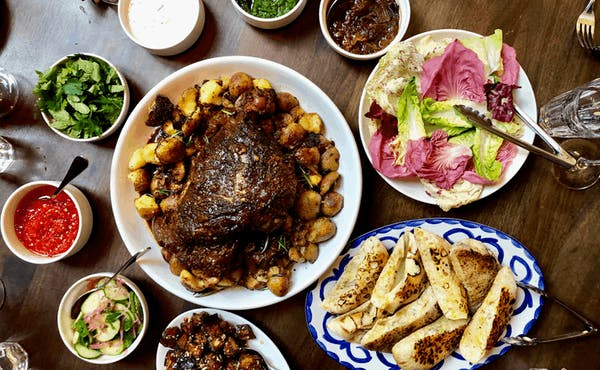 Abbacchio al Forno is our new, large-format meal, feeding 6-8 people.
It's a whole, slow-roasted heritage lamb shoulder served over crispy, lamby potatoes; with pizza bianca-style pita and lettuce cups for wrapping; green, white, and spicy red sauce for dipping; and chickpea salad, eggplant agrodolce, pickles, and herbs on the side.
In Rome, the abbacchio graces tables for celebratory occasions—especially around springtime—but here at Marta, we roast 'em year-round.
$275 for the entire party. Extra food and drinks available à la carte.
Marta is a non-tipping restaurant. Hospitality Included.
When booking on Resy, select a party of 6 and look for this icon:

Must be reserved 24 hours in advance.
For parties of 7+, give us a call at 212-651-3800.